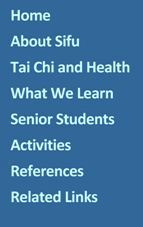 ---
Activities

Members' Activities
Every year, the Kam To Tai Chi Chuan Association organizes a series of activities to bring students from different locations together. Students exchange ideas and experiences while deepening mutual friendships.


Community Involvement
Members of the Association are keen to share their dedication to Tai Chi as a means of promoting health and well-being. Since 2003, Sifu Laurens Lee has brought groups of members to various community occasions in order to demonstrate the benefits of Tai Chi.
Osoyoos Chinese Arts and Cultural Festival (2003)
Salute the SARS Care Health Workers (2003)
Community Day of Roundhouse Community Arts and Recreation Centre (2003 & 2004)
University of British Columbia Asian Library Open House (2006)
Alcan Dragon Boat Festival (2006)
Tai Chi demonstration at the Notre Dame Secondary School (2006)
Heart and Stroke Foundation - Walk for Heart (2006)
Libby Davies, MP & Strathcona Community Centre – East Vancouver Community Barbeque (2007)
Rebuild Sichuan Fundraising Dinner (2008)
"Introduction to Tai Chi Chuan" lecture at Coquitlam Public Library (2008)
explorASIAN Friends & Family Day (2008 & 2009)
Chinese New Year's Eve celebration at Richmond Aberdeen Centre (2010)
"Tai Chi Chuan for Health" lecture at Coquitlam Public Library (2010) (details)
Celebrating the 25th Anniversary of Twinning between Vancouver and Guangzhou - Martial Arts Demonstration (2010)
Libby Davies, MP & Thunderbird Community Centre – Thunderbird Family Barbeque (2010)
"Tai Chi Chuan for Health" lecture at Pui Ying Christian Services Society (2010)
Tai Chi workshop at Langara College Professional Development Day (Feb & Apr 2011)
Tai Chi workshop at Langara College Professional Development Day (2012)
Grand opening of Beechwood welcome house at Beulah Garden Homes (Jun 2012)
Tai Chi talk at Beulah Garden Homes (Nov 2012)
Tai Chi workhop at Hollyburn Country Club (Apr & Jun 2013)
Roundhouse Community Centre "Summer on the Turntable" (Aug 2013)
Roundhouse Community Centre "Summer on the Turntable" (Jul 2014)
Vancouver Coastal Health "Tai Chi and Health" video project (Jan-Mar 2015)
"Tai Chi Chuan for Health" lecture at Pui Ying Christian Services Society (May 2015)
Village Fair at Beulah Garden Homes (Aug 2015)
Public exhibition presented by the Renaissance Fencing Club (Jun 2016)
Christmas party of Pui Ying Christian Services Society (Dec 2016)
Roundhouse Community Centre 20th Anniversary Celebration (May 2017)